Hot Chilli Powder
Red Hot Chilli Powder (Lal mirch) has been finely ground which blends in your recipes to give you a spicy hot taste. It has been formulated without any added preservatives or added colours. Add to your delicious food recipes and rustle up some tasty dishes without worrying about your health!
Description
Green chillies are the unripe chillies which darken to red. Chillies of some varieties can be different colours – purple, yellow and orange for example. Ripe chillies are the sweetest but unripe chillies have a lovely grassy note to them. Dried ripe chillies have concentrated sugars and thus less of the sharp vegetable flavours, but more depth and complexity. Chillies really do have health giving properties. Other therapeutic uses include being a stomachic, carminative and anti-flatulence agent, and a digestant. Chillies are also a very rich source of iron and vitamins A and C.
Guntur Red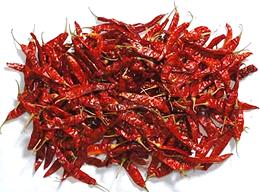 This is a non-specific term. Guntur, near the central coast of Andhra in southern India (just north of Tamil Nadu on the east coast of India) is a center for chili production, and the source of most exports from India. Many varieties are grown there, mostly Capsicum Annuum var longhum. Here are a few examples:
Guntur Sannam S4:   This is the major variety. It is usually around 5 inches (12.5 cm) long, narrow and hot (Scoville 35,000 to 40,000, our H8). Wonder Hot:   The hottest Guntur chili, (our H8 – H9). 334:   A premium export chili. Teja and Phatki:   Rather hot varieties.
Tags: #dehydrated, #immunesystembooster, #immunity, #immunityblend, #immunitybooster, #immunityboosterforkids, #immunitymix, #Spice, #SpiceBlend, #spiceblends, #Spicecombo, #spicecontainer, #spicegift, #spicesampled, #spicesandherbs, #spicesavages, #spiceset, #spicesforhealth, #spiceshop, #spiceskitchen, #spiceslicebite, #spiceslover, #spicesmarket, #spicesofindia, #spicesofsuccess, #spicesouk, #spicesoukdubai, #spicespicebaby, #spicespoon, #spicesquad, #spicestaracademy, #spicestorage, #spicestore, #Turmeric, #TurmericLatte, #Turmericmilk, #turmericpowder, #yellowmilk
Additional information
| | |
| --- | --- |
| Weight | 1 kg |
| Dimensions | 13 × 13 × 13 cm |
| weight | 1 kg., 100 gm, 25 gm., 50 gm., 500 gm. |
Only logged in customers who have purchased this product may leave a review.